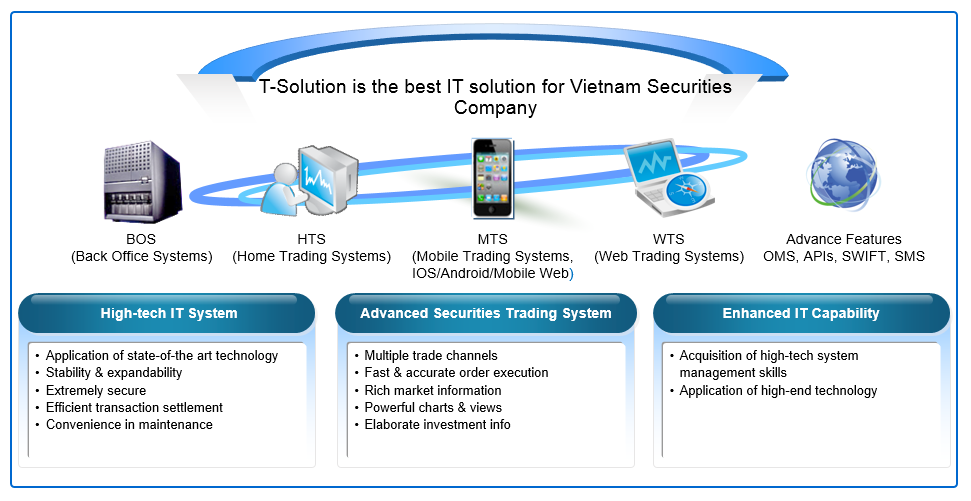 T-Solution is the only solution which is from Korea. LOTTE HPT customized securities solution which was from Yuanta Securities (Korea), (formerly Tong Yang Securities) and optimized for Vietnam markets. Since T-Solution was introduced, LOTTE HPT keeps improving T-Solution. And now T-Solution provides the most powerful functions, stability and performance.
---
System Overview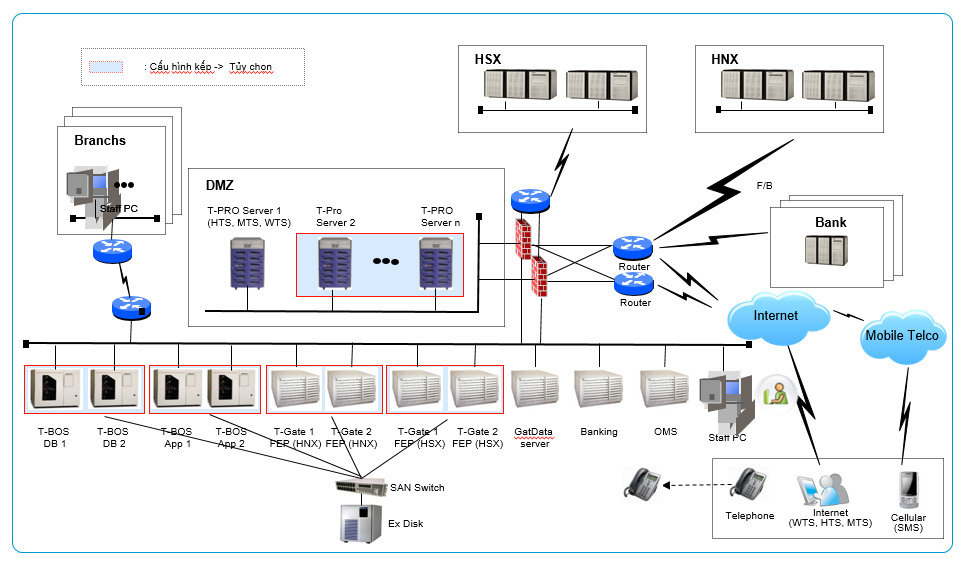 ---
Entire System List
Core System
T-BOS (Back Office System)
T-Gate (FEP for HNX, HSX)
T-Pro Server (Server for Online Trading Channel)
T-Bank (Banking Connection)
Trading Channel
HTS (Home Trading System)
WTS (Web Trading System) : Supports all browsers which can support HTML5, not only windows, but also MacOS, Linux, IPad, Android Tablet)
MTS (Mobile Trading System)
IOS (IPhone, IPad), Android, Mobile Web
All online channels support Vietnamese, English, Korean.
Advance Feature
T-OMS (Order Management System) : Supports FIX protocol
Securities can receive order from oversea investors.
SWIFT Integration
T-API (Application Programming Interface) : API for BOS, Web, Trading
---
T-Solution Strength
Linux Platform
The most popular operating system for Finance Company in the US, Europe.
Open Source – Company can customize system for better performance
T-Solution is the first solution which uses Linux for main platform
Ready for HNX/HSX Next Generation System
HNX/HSX are going to use KRX – Exture+ system for next generation system
Lotte-HPT is the only vendor which understands Korean market and Exture+ system well.
We already got some technical documents about Exture+ system.
We have a lot of experiences in Korean Market and Exchange System
Using Latest web-technology – HTML5 for web trading solution
WTS (Multi Browser / Platform), Mobile Web (Supports All Smartphone which can support HTML5)
Ready to change
New feature every year

2013 : New WTS, MTS – Mobile Web, Android, OMS are launched.
2014 : 1st order solution for FEP, Improving Archiecture for high availbility
API / Prop Trading System / Risk Management System / CRM system are available soon.

Upgrade to latest software

Unlike other vendors, we already upgrade system software (O/S, DB, …) to recent version.